New Patients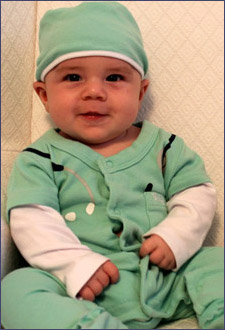 We welcome newborns and new parents to our practice. We provide prenatal visits to give expecting parents a chance to meet our staff and one of our doctors. This visit is provided free of charge. Prenatal visits are usually scheduled early in the morning prior to regular patient visits. We see newborns at Hillcrest Hospital and MacDonald Women's Hospital (at University Hospital). If you deliver at another hospital we will still be glad to see you and your newborn after you have gone home.
If you happen to deliver at Hillcrest Hospital or MacDonald Women's Hospital (UH) then we can see you in the hospital after your baby is born. We generally make our rounds early in the morning and stop in to see you after we have examined your new baby in the nursery. We will provide you with a newborn booklet, which will give you some general advice and recommendations on taking care of your newborn child. Please make sure your obstetrician or hospital knows we are going to be your new baby's pediatrician so they can let us know when to visit you and your baby.
We also welcome new patients to our practice. If you are relocating or just looking for a new pediatrician to care for your child, we invite you to stop by to visit our office or schedule a "meet the doctor" appointment. You may have your records transferred to our office prior to any scheduled appointment. You will need to sign a transfer form to transfer your child's records to our office.

We want to give your child the best start in life and provide the best care possible.